What exactly is double penetration? How to get it by using sex toys!
Are you down with DP? And by DP I mean double penetration! 
They say two holes are better than one! But how do you safely indulge in the most satisfying sexual gratification known to humans? 
Cupid Boutique understands your needs for the utmost pleasure and is proud to promote double penetration toys and lubricants to assist during play! Our Adult toy shop has plenty of options for the best double penetration toys across the market.
Butt Wait! What is Double Penetration?
Double penetration means any two or more erogenous zones being stimulated at one time. 
Double penetration meaning can include but is not limited to;
Vaginal and Anal penetration with a penis and sex toy
Vaginal and Anal penetration with  two sex toys or two penises
Double anal penetration with two penises
Double vaginal penetration with two penises
Toys which are perfect for double penetration first time! (And are available our adult store)
If you were looking for sex toys that you can use that is great for double penetration first time, look no further. Below I list some favorites that have been relentless in the best double penetration spot light. 
Double Ended Dildo: One of the easiest ways to fulfill your first double penetration interaction is to try something like the King Cock Double Trouble dildo. This ultra-realistic dildo will feel amazing against the skin and give you a realistic experience in which you can expand your DP horizons. Don't get me wrong it is a lot of pleasure, but most have to work their anus sphincter before a double penetration session in order to feel completely comfortable and relaxed and lessen the chances of double penetration pain. 
Double Dildo Strap-On: If you wish to have a partner help you create your double penetration session you can also get strap-on sex toys which creates a more versatile way to play. Using a double penetration strap-on can heighten pleasures and bring out some serious orgasms! Like this Fetish Fantasy Double Delight strap-on. Two dildos for two holes, hey it's still considered DP! Maybe you would like something a bit more realistic to challenge yourself? Look for the King Cock Triple Density Double Penetrator. This is a double penetration strap on attachment that can make anyone's DP dreams become reality with one dildo in vagina, the other dildo in anus.
Double Penetration Vibrator: This is where you can completely play solo with no help from other sets of hands. Using a double penetration vibrator has to be the most fun, and the most thrilling of all sex toys I would definitely rate it one of the best double penetration sex toys guaranteed! Using a double penitration toy such as the Disco Triple Play will not only give you pleasure in vagina and anus but it will also stimulate your clitoris for a powerhouse of an orgasmic finish! Of course there are other great double penetration toys if you want to just experience a vaginal and anal penetration during solo play. Seek something along the lines of this Rechargeable Power Stud Over & Under Vibrator. It gives you the realistic details that will feel amazing deep inside and has some pretty serious vibrations that can take you from 0-100 real quick!
Double Penetration Butt Plug: In such cases if you are a female and want to endure double penetration with your partner you can choose different sex toys that will provide you with the same pleasurable feelings as a double penetration sex toy. For instance trying a butt plug like this one; Icicles No. 27 Glass Butt Plug you can use the plug and leave it sit inside the sphincter while also having penis to vagina sex. This will still provide you with those deep rumbly orgasms you are trying to accomplish. You can also mix it up and try a butt plug while using a dildo or vibrator vaginally. 
Cock Ring + Anal Stimulator Double Penetration: Although it is not exactly what everyone pictures while thinking of double penetration sex. But this still applies because two spots are penetrated at one time. A great non vibrating version of this option is the Ass-Gasm Silicone Cock Ring & Anal Beads this complete self-contained set can provide any man with double penetration between penis and anus. Of course if you would rather have a vibrating one check out the Anal Fantasy Vibrating Ass-Gasm Cock Ring and Plug too. 
Dildo and Harness Free Strap-On Double Penetration: This option can be done with a dildo or a vibrator, the harness free strap-on Fetish Fantasy Limited Ribbed Double Trouble can also provide double penetration during solo play. If you already have a vibrator or dildo favorite this single strap-on unit can be strapped to the toy and used as an extra dildo for your anus while you penetrate your vagina with the vibrator or dildo. 
Lubes to help with Double Penetration: Like all things sexual, lubricants during double penetration are an absolute must! Serious pain can occur if you are not careful and take proper procedures prior to indulging in double penetration or sex in general. When shopping for a lubricant there is no exact one to purchase but it is always great to have some on hand. The most preferred lubricants for sex are a water based lubricant, but there is way more options than just an original water based formula. This Soothe Anal Glide is a water based formula which is enhanced with an anti-bacterial agent and contains guava bark extract which has tissue healing properties and is safe for anal, vaginal and oral sex.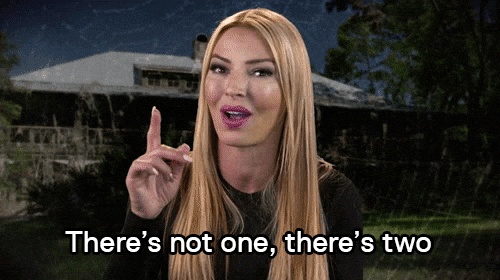 You can also choose to use a hybrid lubricant for double penetration purposes; this lubricant is slightly thicker than your average water based and has silicone properties which creates a slicker build during the double penetration. Since the rule still applies that you don't use silicone lube on silicone toys, this Gold Hybrid Water + Silicone Hybrid Lubricant is safe to use with all types of toys because its base is water. 
My best advice to anyone seeking sexual gratification in double penetration practices is to make sure all is consensual prior to the act. Make sure that both partners (unless creating a solo play session) are both aware of what is to happen, how you want it pleasured and where you want it pleasured. Also like bondage you need to establish a safe word when the double penetration becomes too much for the receiver. 
Always relax and keep yourself in comfortable positions in which you feel best, don't try the biggest double penetration toy you see first, always work your way up from small to large. 
Always clean your sex toys before and after each use with an anti-bacterial toy cleaner and be sure to clean yourself after as well to keep the bacteria levels low and keep you feeling and smelling fresh. 
Want to learn more from Cupid Boutique Blogs? It's where the fun starts and you can learn more interesting informative facts about sex toys, sexual pleasure and sexual wellness.
---